Tom Meighan: Kasabian-zanger 'sorry' voor aanvallende partn
juli 19, 2020
Translating…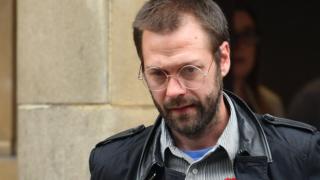 Former Kasabian singer Tom Meighan has publicly apologised for assaulting his partner.
The musician was sentenced at Leicester Magistrates' Court on Tuesday for attacking Vikki Ager while drunk.
Magistrates heard she was struck on the head, threatened with a wooden pallet and dragged across a room before a child witness called 999.
Leicester-based domestic abuse charity the Zinthiya Trust said there could be "no excuses" for what Meighan did.
Meighan, 39, said the attack in April was "a wake-up call" for "who I was, and what I was becoming".
The musician said on Twitter: "I am very sorry and deeply regret my recent behaviour. In no way am I trying to condone my actions or make excuses. I am completely to blame and accept all responsibility."
Meighan was given an 18-month community order, and told to carry out 200 hours of unpaid work, complete five days rehabilitation, and pay costs of £175.
His statement said he "struggled for many years with alcohol addiction" and had booked himself into a rehabilitation programme last month.
"I was spiralling out of control. My mental health was becoming more and more unstable and I was at breaking point," he said.
"With the support of my family and friends, I've been taking every day as it comes, getting through each day completely clean and sober."
Meighan, of Narborough, said a recent ADHD diagnosis had helped him "understand more about my behavioural issues".
He also said he and Ms Ager were "very much in love and looking forward to rebuilding our life together", describing the incident as "isolated" and "out of character".
'Duped and betrayed'
The band said on Monday he stood down because of "personal issues", making no mention of the assault.
This prompted an outpouring of support for the singer, but the next day he pleaded guilty to the attack, leaving some fans saying they felt "duped" and "betrayed" into offering their sympathy.
Kasabian said they had not been able to give details before the proceedings, but women's groups claimed their statement had "minimised" the seriousness of the crime and the band should have waited to comment.
After the hearing, the group said: "Domestic violence is something that can never be excused."
Zinthiya Ganeshpanchan, founder of the Zinthiya Trust, helps victims of domestic abuse in Leicester.
"I understand there are various trigger points for abuse, such as alcohol, mental or health problems," she said.
"They are not excuses – everyone should feel safe in their own homes."
Meanwhile, Debbie Hughes, chief executive of Living Without Abuse (LWA) called Meighan's apology "sincere".
"We certainly welcome anyone making a sincere apology, especially as it is so unusual for abusive people to admit they are in the wrong," she said.
"Often an abuser picks on the people around them that are vulnerable so alcohol or mental health cannot be blamed for their actions. There is still that level of conscience to decide who they are going to be abusive towards.
"He [Meighan] recognises that and gives some level of explanation of what's going on in his personal life, but it's certainly not an excuse and should never have happened. He can never take that back."
Follow BBC East Midlands on Facebook, Twitter, or Instagram. Send your story ideas to eastmidsnews@bbc.co.uk.